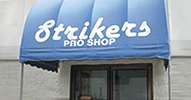 Strikers Bowling
Pro Shop
757-468-6195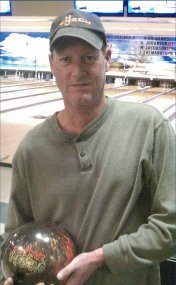 Somewhere
around 2003 in the Brunswick bowling ball factory in Muskegon Michigan a particular 'Inferno' bowling ball was beginning it's journey toward Virginia Beach Va. to become veteran bowler Butch Bell's first sanctioned 800 series ball.
Butch was bowling as a sub on the Tuesday Splitters at
Pinboys at the Beach
as he posted games of 298, 216 and 290. That's 804 plus 11-in-a-row twice. The only heart breaker in that set was an open frame in the final ball of game two. A spare in frame one of game three left him with only one chance to get 800: He needed to strike off the sheet. Not the easiest way to get there, but he got it done. Congratulations Butch!

Strikers Pro Shop is here for everyone.
You deserve to be a better bowler. ®